The Chan-Zuckerberg Initiative (CZI) sponsored a Criminal Justice Reform workshop with the Prison University Project (PUP) at San Quentin during the fall semester.
The "Criminal Justice Reform, Philanthropy, and Social Change" workshop was designed to include incarcerated voices in the decisions that affect them.
The framework for the non-credit college workshop revolved around participatory action, which seeks to ensure that the people directly affected by social problems lead and inform the efforts to solve them.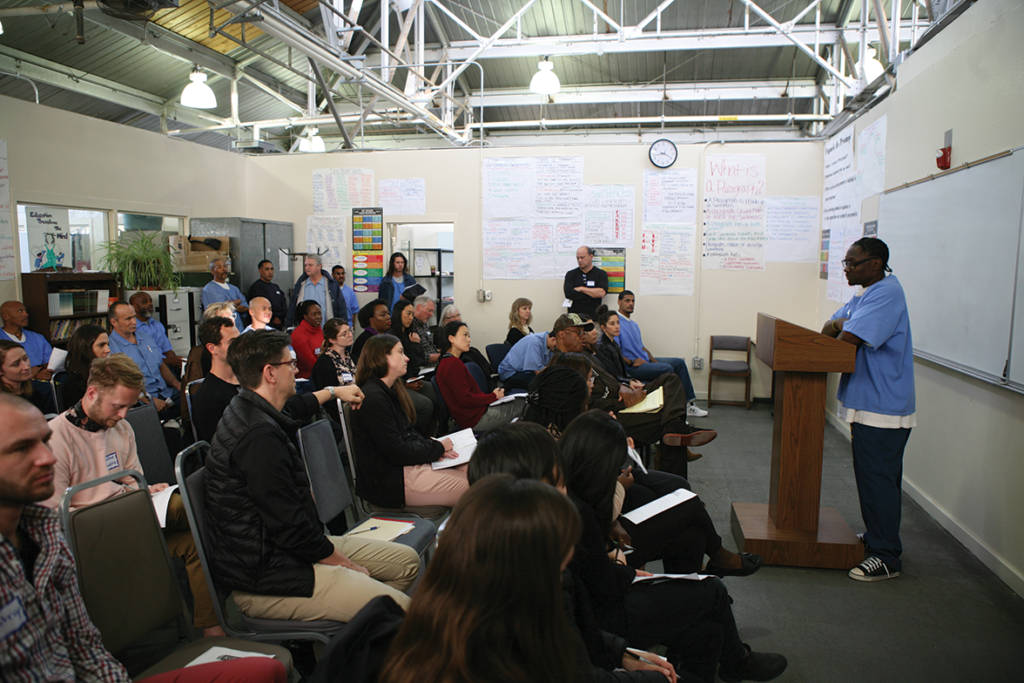 "When it comes to criminal justice reform, philanthropists and policy makers need to hear from the incarcerated because you guys understand the problem personally," said Jire Bademosi, Social Advocate with CZI. "It's impossible to fix a problem without understanding the intricate details and the systemic issues underneath it."
Amy Jamgochian, program director of PUP; Jesse Rothman, a former PUP instructor; and Bademosi determined that the workshop would:
• Give participants an understanding of power dynamics
• Provide students an overview of the current role of philanthropy in promoting reform within the criminal justice system
• Give participants an opportunity to develop their own reform proposals for consideration.
"A sophisticated theory of power is vital to activism," Jamgochian said. "In order to affect change in a structure, our university students need to see how power morphs to maintain social control."
Therefore, the first third of the semester was dedicated to learning about power, social theory, and mechanisms for control.
Jamgochian facilitated the first class discussion after students had read Judith Butler's essay "What Is Critique?"
Jamgochian asked the class what they thought about criminal justice reform. Then she explained that all of the ideas that were tossed around were structured around what the students had been exposed to in society, through television or literature—no one mentioned any alternatives.
"Social conditioning happens because we are exposed to ideas and institutions of power that have been in existence before us," Jamgochian said. "Some of those institutions are mechanisms of control but if no one questions them, they continue to exist."
Students were asked to start thinking about a project proposal that would revolutionize the criminal justice system.
PUP coordinated four-re- search assistants to help the students with their ideas.
"The first third of the class was heavy-duty reading and thinking," Jamgochian said. "But it was important to have a good foundation moving forward."
In the second third of the semester, participants learned about philanthropists' efforts to help reform the justice system.
According to "Knowledge for Justice: The Rising Tide of Grants for Criminal Justice Research" on insidephilanthropy.com, philanthropists "largely ignored criminal justice for decades."
Today, some estimate that philanthropists now donate about $300 million a year toward criminal justice reform efforts such as reentry programs, communitybuilding organizations, and ballot initiatives.
However, according to a report by Prison Policy Initiative (PPI), "Following the Money of Mass Incarceration," the Bureau of Justice Statistics reported that it costs $81 billion just to run the corrections system.
According to the PPI report, the Bureau of Justice Statistics that the corrections system costs $265 billion a year can be misleading because that "includes the costs of federal, state, and local corrections and the entire police and court systems."
During the CZI workshop, Rothman led discussions about promoting common sense solutions that save taxpayer dollars and reduce the impact of crime.
"There is definitely a lot of money spent by sustaining this form of punishment," Rothman said. "However, with more than 2.5 million individuals system-impacted, the human cost can no longer be ignored, so people want to do something about it. I believe that you all can help advance the change that we need."
In November, Twitter and Square CEO Jack Dorsey attended the workshop to dis- cuss social media as a place to start a conversation about cultural change and important issues.
"We've definitely developed a platform for a world conversation about important issues," Dorsey said. "Social change comes about when people start to see more of the bigger picture."
When asked about Twitter's role in cultural influence, Dorsey explained that Twitter allows people to exercise their freedom of speech but does not guarantee a broad reach.
Dorsey emphasized that building a movement requires earning an audience, not imposing agendas on people.
"Justice to me is a path toward balance," Dorsey said. "We strive toward that by giving everyone a platform to leverage their voice."
Sara El Amine, executive director of former President Barack Obama's "Organizing for America" grassroots effort and now the director of advocacy at CZI, also attended the workshop.
El Amine discussed the fundamentals of community organizing and the necessity of power mapping—identifying key stakeholders, movers, and shakers.
"Once you know who actually has power to address your concern, you can start strategizing," El Amine said. "Sometimes you don't even have to do too much to get someone to take notice of an issue."
Yoel Haile, former political director of the Afrikan Black Coalition and now a Criminal Justice Associate with the ACLU of Northern California, said that there are times when you have to do a lot more.
"We were able to get the University of California to divest nearly $30 million in private prison investments after collecting a lot of data and meeting the Chief Financial Officer," Haile said. "It wasn't easy but we were persistent."
David Plouffe, former campaign manager for Barack Obama during the 2008 presidential election and now CZI's policy director; Mike Troncoso, former senior counsel to then California Attorney General Kamala Harris and now director of Criminal Justice reform at CZI; and Mike Romano, Stanford law professor, also contributed lectures and insight during the workshop.
By mid-November, 20 of the initial 25 participants turned in their proposal outlines.
The students' proposals ranged from targeting the school-to-prison pipeline, promoting inmate-run rehabilitative programs, providing more technology in prison, developing informed reentry programs, providing electronic employment placement, and making the criminal justice system more accessible by utilizing regular English instead of using legalese.
"I didn't see myself as being able to affect change in the world, as an inmate," said Detrinidad, a workshop participant. "But after some of the readings and speakers, I was inspired."
On January 26, 2019, the participants gave their presentations to about 40 academics, philanthropists, and community organizers.
"After the presentations, people were inspired because they had heard from those involved with the system," Rothman said. "I believe that these proposals are saturated with informed experience."
The proposal summaries were reviewed and posted on the Medium website for the public and philanthropists to view.