U.S. veterans filled the San Quentin visiting rooms with the joy of holiday giving once again this December as they stuffed bags full of toys for children who have loved ones in prison.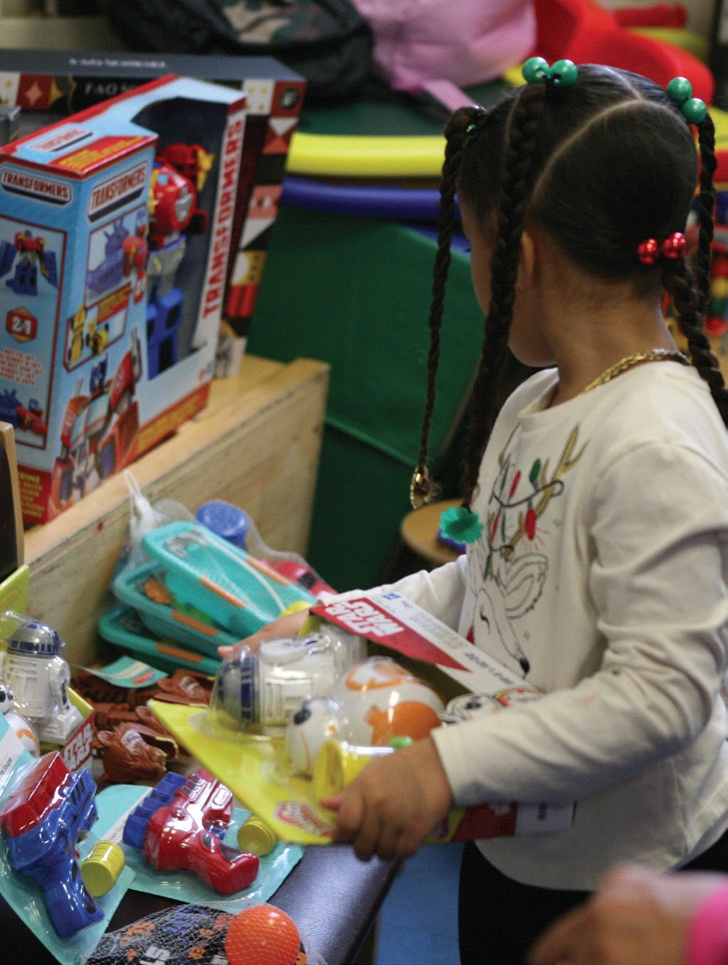 "I'm so happy and so surprised!" said 5-year-old Nielah, who came to the prison to visit her grandfather, Henry "Mutawakkil" Manson. 
She was one of hundreds of children who received toys from the incarcerated veterans who volunteered to carry on the 32-year-long SQ tradition.
The veterans transformed the children's play area into a holiday toy store and invited prison residents to come in with their visitors and "shop" for their beloved little ones.
A thousand toys covered the tables, boxes, and chairs: puzzles, coloring books, building blocks, yo-yos, checkers, jump ropes, Monopoly, Battleship, Jumanji, Candyland, Sorry, Trouble, dolls, plush toys, a Dino-Blaster truck, a 4×4 Hummer, and a big yellow CAT dump truck.
Carl Raybon was one of the three veterans wearing colorful Christmas lights blinking around their necks as they manned the festivities. He held a big bag wide open as two young boys picked out toys with both hands and dropped them in. 
"Y'all got so many," said the 4-year-old. "This is everything I want," said his 6-year-old big brother. 
"Here comes Santa Claus, here comes Santa Claus, right down Santa Claus Lane…" sang the television playing Christmas carols.
"That was fun — a whirlwind of emotion," said veteran Kevin Brinckman after a big wave of shoppers. "I'm so full of Christmas joy."
He thanked Community Resources for their help getting the toys in. "This wouldn't happen without all their support," Brinckman said.
"It's a real blessing to have the opportunity to shop for Christmas toys with my nephews," said SQ resident Edgar Rodriguez.
"Being surrounded by all these festive decorations really makes it feel like Christmas. It's unexpected for a prison visit," said his brother, Victor.
The veterans spent hours decking the halls of the visiting room before the holidays. Silver and gold garlands covered the entryways, red and green garlands wrapped the posts, and lights hung on the walls.
Veteran Elton Kelley caringly adorned the Christmas tree with red garlands, red bows and multicolored lights. The tree was a beautiful yuletide backdrop for keepsake photos taken during the precious few hours with loved ones during holidays in prison.
"I got a recorder," said Marvin, Edgar's 9-year-old nephew. He was thankful and surprised to get the flute and other toys while visiting his uncle. 
Six-year-old David said, "I don't even remember what toys I got, 'cause I got so many."
Their mom, Gina, said, "Thank you, veterans, for this holiday joy."
The toy giveaway took place on Christmas weekend and the weekend before, four days in total.
"I love kids," said Navy veteran Reginald La'Mont Cooper, volunteering with the toy giveaway for the first time. "This brings back the joy of opening Christmas presents and reminds me I'm still a kid at heart." 
"My kids are not in my life now, but making other kids happy feels good," said Cooper. "I'd give up my workout any day to do this."
He has not seen his own children during three decades in prison, and hopes to get back in touch with them when he gets out.
This year's toys were donated through Veterans Healing Veterans and Veterans Transition Center of Monterey County "This couldn't have happened without their hard work and compassion for kids who are impacted by prison," said VHV founder Ron Self, a former San Quentin resident. "VTC staff member Al Garlic spent weeks collecting the toys from 20 different stores and organizations." 
Garlic, Self, and VHV staff member Tom Lamphear packed the thousands of toys into two vans and a truck and drove them to San Quentin for the veterans to give to the kids. 
"Toys for Tots always kept me feeling good inside," said Marine Corps veteran Tedrick Sims. After spending nearly half his life in prison, the 72-year-old, who served 17 years in the Merchant Marines, was found suitable to parole in a few months.
"Tears were running down my cheek when I realized this would be my last holiday season here," said Sims. He plans to live in the VTC housing when he gets out.
"I'm just so happy you guys are all here," said SQ Sgt. Z. Camacho to the veterans. "There's no other day like Christmas, especially for a child. There's nothing like seeing their faces light up."
"Have a holly-jolly Christmas, it's the best time of the year," sang the television.
When the visits ended, the children picked up their toys to take with them on the way out. The vets welled up with emotion seeing two of the boys hugging their fathers tight, weeping, saying bittersweet goodbyes.
"You gonna be alright, Coop?" asked Raybon. "Yeah," Cooper answered.
"You need a hug?"
"Visiting is now over," announced the loudspeaker.
Christmas was over too — until next year.