Curtis "Wall Street" Carroll said his inspiration to learn how to read was when he heard about stocks. He said someone told him "that's where White people keep their money," to a laughing audience at a Technology, Entertainment, Design, (TEDx) event at San Quentin State Prison. "It was a struggle learning how to read, but I kept at it."
Carroll, also known as the Oracle of San Quentin, talked about growing up in Oakland. His criminal life began at age 14, when he and his mother battled homelessness in a drug-infested environment. By age 17, he was convicted of murder/robbery and given a life sentence.

"Financial illiteracy has been a disease that has crippled our nation," he said. "Seventy percent of criminals are driven by money issues. You can't have full rehabilitation without learning money management."
Warden Ron Davis said, "Everybody has ideas about prison, but two things echo from today: opportunity and responsibility. Hearing these guys talk about accepting responsibility and then having them take advantage of the opportunities that we've provided will help them become successful members of our society."
TEDx was first brought inside prisons by Jo Dee Davis as a challenge from inmates in Ohio.
Davis ran a computer lab for 16 years in Marion Correctional Institute. After she showed TEDx to the men, they believed they could perform the same or even better, she said. Since then, there have been two TEDx events in Washington State, three in Pennsylvania prisons and in California at Ironwood State Prison.
The first TEDx in Pennsylvania was held at a women's prison, said co-coordinator Janet Kelley. "The themes in the male prisons were mainly about their programs. The women's TEDx talks were emotional and about redemption."
The San Quentin theme, Life Revealed, was produced by Delia Cohen and San Quentin Television. It sought "to create an experience that encourages new perspectives and ideas through discussions and partnerships that will lead to meaningful and lasting solutions to building safer and healthier communities," the program reads.
Prison Reform Needed
:
Reforming the criminal justice system became a central theme by many speakers.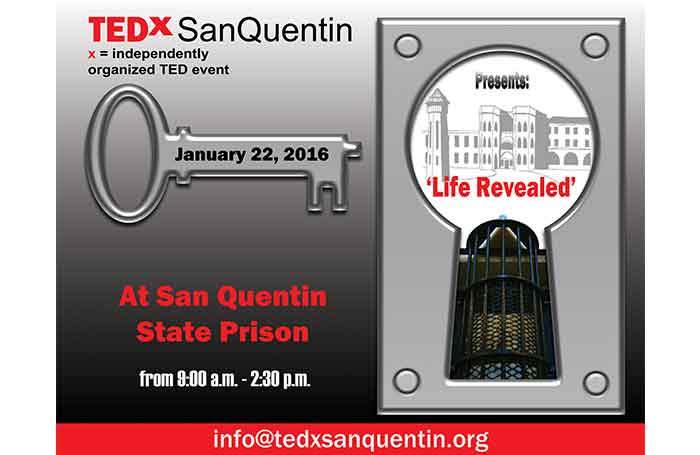 Former
U.S. Treasury Secretary Robert E. Rubin
spoke about poverty, prisons and government responsibility.
"Combating poverty should be a part of the economic policy of the government," Rubin said.
He pointed out the obstacles one is up against when getting out of prison: reentering society and finding employment.
"Those incarcerated need to continue to take advantage of opportunity, and we as a society need to make sure that people have access to opportunity to make contributions to our society," Rubin said. "People outside of prison need to learn that you are not just the crime you committed. We are all … much more than the single worst thing we've ever done."
The importance of "how we talk about the criminal justice system," was discussed by
Neal Barsky
, creator of The Marshall Project web site.
"How do we put criminal justice reform on the national agenda?" Barsky asked. He then quoted Black activist Eldridge Cleaver, who said, "'Either you're going to be a part of the solution or a part of the problem.'"
Barsky
reflected on this life and his inaction to social problems.
"I hadn't done anything wrong, but I didn't do anything right."
Barsky
said that through storytelling, reality about the criminal justice system could be brought into the national spotlight. "That's why I started The Marshall Project. We need to bring these stories out so that the criminal justice system is in the national light. Think about how journalists affected the Vietnam War and civil rights. Think about how Selma affected civil rights.
"If you really want to understand The Marshall Project, read San Quentin News," he added.
Crime survivor
Dionne Wilson
told the audience how she found forgiveness for her husband's murderer.
"July 25, 2005, my life changed forever," Wilson said with tears falling. "I went to bed thinking tragedy wouldn't touch me. I thought as long our prisons were filled, I was safe."
Wilson described her emotional turmoil while seeking closure following her husband's murder. After conflicting feeling rooted in revenge, Wilson met with
Insight Prison Project
(IPP) facilitators. She said she didn't expect to connect with people who had similar stories like hers.
"I learned that the key to my healing was connecting with people who had done great harm and were seeking their own healing," Wilson said. "It was clear that more suffering wasn't the answer; the key to healing comes from programs like VOEG (
Victims Offender Education Group
)."
"
VOEG
is emotional work that explores the impact of crime, to build empathy, to heal unresolved trauma. Watching people become transformed completely erased my need to see the person who killed my husband executed. I never thought I'd have the experience of having this emotional healing or support. It's been amazing. It's really sad that these programs are so rare outside of San Quentin. We need to change that.
"Make them available. They reduce violence in prison. They transform the lives of people on both sides of prison walls. Say 'yes' to media. People need to know that's going on inside prisons. Keep ways to connect prisoners and families.
"To society: I ask that you set aside what you think you know and get curious. Don't ignore the harm they've caused. But, be open to the fact that people change. I ask you be open to the fact that redemption is possible. I want you to forgive by allowing the debt of formerly incarcerated people to be paid. But, the stigma lasts too long. They are marginalized for housing, employment, mental health support. It will take all of us working together."
Inmate
Darnell "Mo" Washington
focused on leadership and the value of education.
He said his educational inspiration came from his uncle who told him that when he graduated from high school, he'd buy him whatever he wanted. However, his uncle was killed before he graduated; his life was further jolted when his cousin was killed.
Washington
said the incidents resulted in anger, rage and a desire for revenge through gang violence.
After being convicted of murder, receiving a life sentence and serving about 15 years, he discovered Restorative Justice and Criminal Gangs Anonymous, which changed his thinking and gave him an understanding of how his past affected him and his community.
Washington then began to notice that a lot of younger inmates were not getting their GED certificates, so he wanted to make a difference, like his uncle wanted to do with him.
"It doesn't take much to make a difference in someone's life,"
Washington
said.
He told the youngsters that if they passed their GED test, he'd give them his prison paycheck, which was $20. After more than a dozen people passed the GED test, and more continued to pass at a higher rate than he could handle, he began cooking food for graduates.
"When my uncle believed in me, it showed that someone cared and I did better," Washington said. "Sit face-to-face with your family members, and let them know that you believe in them."
Ex-Offender's Perspective:
Troy Williams
spent 18 years behind bars before earning a release date. It was his fifth appearance before the parole board.
He began with an apology to his daughter and victims of his crimes and then drew on the struggles of re-entry caused by the lack of resources.
Williams
said that he was paroled to a drug-infested neighborhood with prostitutes and trash all over the street.
"I felt like I was paroled to a neighborhood of throw-aways," Williams said. "It was the tools that I learned while in prison that protected me from harm. I had to get away from the feeling of worthlessness. I watched about 30 men succumb to the pressures of the environment … dope or whatever.
"When things got rough for me, I thought about my daughter, my mother. I thought about all the people depending on my success. I had a plan that I'd waited 20 years of get to. I knew that I needed to build a support group. I knew I couldn't do it alone; so I reached out to the only community I knew, the volunteers in this audience here today.
"Most of society is missing the benefits of what the men in here have to offer. There are many men here who are many teachers. We need to learn how to take the skills that the men here have developed and bring them to the community."
Williams
closed by saying, "I don't understand why society spent $50,000 a year to keep me in prison, but nothing to keep me out."
From The Eyes of a C/O
Correctional Officer Ernest Stanford
discussed rehabilitation from a guard's perspective.
Stanford, a correctional officer for 14 years, said he's always wanted to be in law enforcement.
"My life is on the line every time I come to work," Stanford said.
He said his career began by working on Death Row. However, the last four years he's been assigned to the Education Department.
Stanford
told a story about meeting an inmate who had just arrived at San Quentin and wanted to find out about programs. Stanford instructed the inmate to meet him in the Education Department the following day.
"When I got to work, he was waiting for me,"
Stanford
said. "I watched his entire transformation into a facilitator that helps a lot of other inmates.
"Life has revealed to me that everyone has a chance. I asked that you extend your hand and show them the way to jobs and shelter. When I retire, hopefully, I could set up a transition home for the incarcerated."
More Ideas for Reform:
Sha Stepter-Wallace
compared street hustlers to business entrepreneurs and weaved in how his transformation from drug dealer to motivational speaker is beneficial to public safety.
Stepter-Wallace
said he grew up in an environment where his earliest childhood memories were of the smell of cocaine and sound of money-counters.
He said life as a drug dealer gave him an understanding of supply and demand, along with the ability to "manage inventory." However, he missed "life lessons" and found the basic facts about drug dealing: its illegal, dangerous and immoral.
He lamented on the shame for selling crack to a teenaged pregnant girl.
"The talents of a street hustler are rooted in exploitation," he said.
After arriving at San Quentin,
Stepter-Wallace
said educational opportunities allowed him to transform himself and find legitimacy by studying business entrepreneurship.
"I found that entrepreneurs have hustle. They'd take risks," he said.
Stepter-Wallace
said he believes he can reform street hustlers into honest businessmen. He noted The Last Mile, an entrepreneurship program at San Quentin: "There is a zero recidivism rate for The Last Mile graduates who made it to the streets," he said to an applauding audience.
An interesting perspective of Life Revealed came from Pete Worden, CEO of Breakthrough Prize Foundation.
After a vague explanation about relativity, Worden lauded the work of scientists and the fact that his foundation awards $3 million annually to promote science.
Worden then switched to NASA's search for intelligent life in outer space that ended with its message: "We are here. We are alive."
Find Center
, by Chung Kao, was his journey about the benefits of mediation and yoga in search of peace.
Kao said that he spent his first 13 years incarcerated pursuing self-discovery.
"Violence-to-violence was the way I thought," Kao said. "But, deep inside I felt something wasn't right. I wasn't me. I returned to center, time and again. He who overcomes self is mighty. I found center through meditation. I believe if everyone looks inside, they'll have such a transformation."
Veteran Ron Self
began his talk on the shame he felt after a suicide attempt.
In 2012, Self began a self-help group at San Quentin called
Veterans Healing Veterans From The Inside Out
. Its concept centers on understanding how soldiers are taught their duties in Boot Camp. Self contends that in order for the soldier to properly re-integrate into society, there needs to be a Boot Camp Out.
Self's program utilizes the act of writing as narrative therapy.
"Things happen from writing down what you've experienced," Self said. "It gives the person the ability to share bad experiences and resolve old traumas."
Second Chances
, by David Le, focused on the quandary of first-time offenders.
Le is serving 40 years to life for second-degree murder.
The Vietnam refugee spoke about his struggles of making it in America.
"I'm convicted of a violent crime, but I'm not violent by nature," Le said. "It paints a distorted picture of who I am. The determination of whether a person is a violent person should be found upon who that person is today, not the crime he has done a long time ago. I hope our desire for redemption shows that we are not monsters but people who want a second chance."
Inspector Genera
l Bob Barton discussed the effects of rehabilitation.
"We need to change how we use our prisons so people come out better and not make them worse. We've been doing the same thing over and over again, and expecting different results. I am tired of seeing the same thing; that's why I want to make a difference."
Barton said the old model of punishment, incapacitation, deterrence and overlooking rehabilitation is short-sighted.
"Punishment is not a long-lasting solution to crime. There has to be rehabilitation. Transformation is a process and is the only thing that will have a long-lasting effect on society," Barton said. "When a person takes personal responsibility, there needs to be things like education. However, for every person in a program, there are 50 on a waiting list. Still, the opportunities need to outweigh the obstacles."
Barton closed his talk by using the story of How the Grinch Stole Christmas to say, "If the Grinch could do it, anyone can."
Jacque Verduin
began by talking about his father's ordeal of overcoming the aftereffects of being used as forced labor during World War II. Verduin said that his life was shaped by his father's willingness to meet with his captors and forgive them.
"My father came back a changed man," said Verduin, who now teach inmates self-control through a program called
Guiding Rage Into Power
(GRIP).
"The main goal of GRIP is to leave prison before you get out," he said. "Twenty-five percent of our graduates have gotten out, and none have come back in spite of a 60 percent recidivism rate (for others)." According to CDCR it is actually 54.3 percent.
Verduin was accompanied by
GRIP
graduate, Fateen Lateef Jackson.
"We have learned how to change suffering to healing," Jackson said. "I learned in
GRIP
that hurt people hurt people. Healed people heal people."
Jackson took responsibility for his past violence and wrongful acts in a performance of Spoken Word, called The Apologetic Salute.
Shakespeare in Prison:
Suraya Keating of the
Marin Shakespeare Company
told the audience, "We are using Shakespeare to reveal all the light within us," adding, "We use themes from Shakespeare to create parallel plays to create something about our own lives."
Several inmate actors discussed scenes from The Tempest and The Life and Death of Julius Caesar and how drama therapy helped them transform.
"I realized I've always been an actor," said
Antwan "Banks" Williams
. "How I acted with my family was different than how I acted with my friends, which isn't how I acted in the streets. With one face comes many characters. How we use them ultimately shapes how we treat each other."
"This program has allowed me to explore a lot of traumatic issues that sent me to prison," Le'Mar "Maverick" Harrison said. "These programs helped me learn that if I can transform myself, maybe I can earn a change at redemption."
CDCR's Plan for Lifers:
The new budget for the California Department of Corrections and Rehabilitation (CDCR) is expanding services to life-term inmates, according to Diana Choate, acting director of the department's
Division of Rehabilitative Programs
.
"It's about finding programs that cater to lifers specifically. The governor recently met with 75 parolees and, based on that discussion, he now wants
CDCR
to adopt the types of programs geared to help them upon re-entry," Choate said.
The San Quentin Base:
"Inmates all over the state ask to be transferred to San Quentin," said opening speaker Diana Toche, CDCR undersecretary of Health Care Services.
"We have dedicated staff and more than 3,000 volunteers who come inside San Quentin to help with these programs. That's part of the community partnerships that makes San Quentin so strong. Programs are essential to show that rehabilitation has happened," Toche said. "So, it is incumbent for CDCR to make these programs available for every inmate."
https://sanquentinnew.wpengine.com/prison-newspaper-100th-edition/
https://sanquentinnew.wpengine.com/chan-zuckerberg-initiative-czi-aids-programs/
https://sanquentinnew.wpengine.com/sq-holds-symposium-immigration-policies/
https://sanquentinnew.wpengine.com/suicide-prevention-brothers-keepers/